Shifting Policy at the Fed
Teeter Totter
We are at the tail end of February and the U.S. market is near a key level after rising ~15% from the December low (Russell 3000.) We are still ~5% below the record highs that were set last September after two months of a steep move higher. Global stocks measured by MSCI's all-cap world index are off ~10% from the early 2018 high after rising ~15% from the December lows.
The U.S. index has just broken the 200-day moving average, which is a common barometer for market direction. The S&P broke above it three times since the end of 2018 only to fall lower each time – will this time be different? Perhaps, but there is a key resistance level around 2,800, and today we're just below that. Passive money flows and computerized trading dominate market volume today - we should be ready for broad-based volatility and a move lower from that level due to the structure of the market.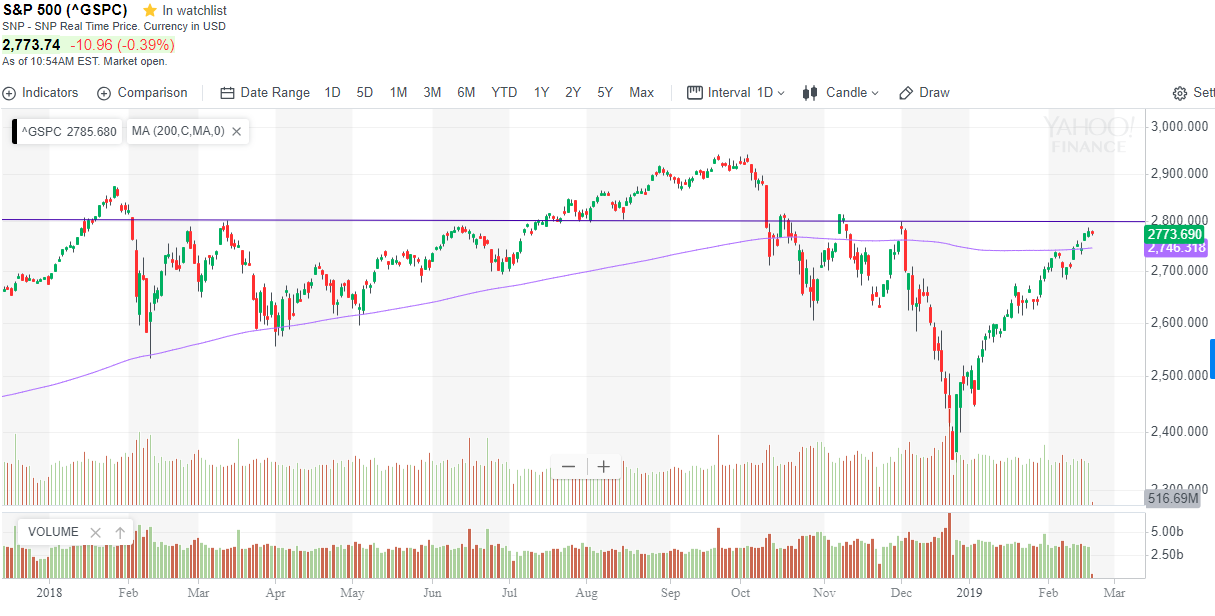 The MSCI all-cap world index is a measure of global stock performance (this is not a recommendation or investment advice.) That index just reached the 200-day moving average and a key resistance level, just like the U.S. markets.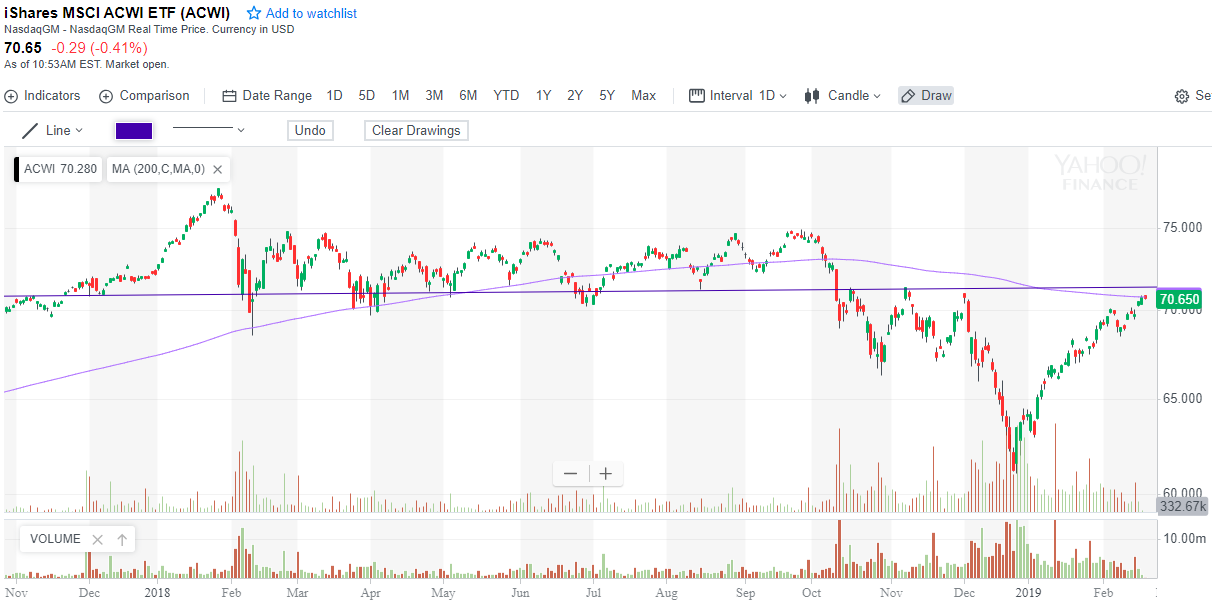 Key news like a China & U.S. trade deal or Federal Reserve language that indicates a slowdown in monetary tightening or reversing course could move the markets higher. The additional tariffs on Chinese goods have just been delayed due to constructive, ongoing discussions between nations according to officials. The nine-week win streak we've had is on the back of these trade talks and the Federal Reserve boosting markets by reversing their stance on policy.
In the most recent meeting, central bank policy rhetoric indicated that they will end the balance-sheet reduction earlier than the market had expected. The $4 trillion balance sheet of Treasuries and mortgage-backed securities is currently being sold off at a rate of $50 billion per month, which adds supply to the market. This puts downward pressure on bond prices (higher interest rates.) The policy shift came after the market had sharply declined. Recent disappointing economic data coupled with government-measured inflation below the Fed's target leads the market to believe there may not be more interest rate hikes this cycle.
"
I think the shift in Fed policy indicates they believe we are on the cusp of a global economic slowdown.
"
Our central bank is essentially the only one among developed nations that is not easing. Japan's rates seem to be perpetually set at 0%, Europe is still easing and facing recession (Italy is already in recession and Germany is close, two of the three largest economies in the Eurozone) and China just lowered their reserve requirement to combat slowing growth.
I think the shift in Fed policy indicates they believe we are on the cusp of a global economic slowdown. They see the weak data and stock performance and have acted by reducing economic tightening plans. Interest rates are still historically very low, but without an increase in inflation the Fed is unlikely to raise the short-term rate much higher.
The Fed must also bend to what is going on globally. The Eurozone is facing economic and political uncertainty. The U.S. is the only game in town when it comes to developed nations with interest rates much above 0% - if short term rates domestically head higher, global demand for U.S. assets could increase. That scenario could strengthen our currency, which might create problems for multinational companies and emerging markets. Below are selected rates pulled from the WSJ. Some notable 10-year yields not charted are Canada at 1.86%, France at 0.51%, Switzerland at -0.35%, and South Korea at 2.00%. Countries like India, Greece, Italy, Mexico, and Brazil are yielding higher rates.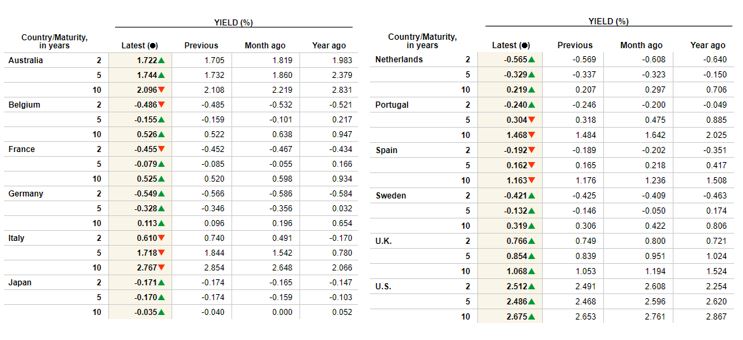 Given the backdrop of poor economic data released this year in the U.S., Europe, Japan, and China, it's tough to paint a picture that stock indexes will retake all-time highs this year. Retail sales, housing, and corporate spending all have been weak. An inverted yield curve, which is one of the best predictors of a recession, adds to the concern. The U.S. curve is flat/ inverted between 1 and 7 years. 
Investors should be wary and prepared. Though the markets cheer for looser central bank activity, policymakers are hinting at trouble ahead. Too, 82% of chief financial officers surveyed by Duke University expect a recession by 2020. The markets gave us a buying opportunity in December; I still find good value and opportunities in pockets of the market, but investors should be aware of the data and positioned accordingly for more volatility as we teeter near 2,800 on the S&P.
By failing to prepare, you are preparing to fail.  ― Benjamin Franklin
Best,
Zachary Sturdy
U.S. data:
Europe data:
Asia data:
In my last article I promised to touch on natural gas. Below is a 6-month chart showing a big spike in November due to supply constraints on the East Coast caused by an extreme cold spell. It shows just how volatile essential commodities can be in short periods of time, rising from below $3 to over $4 per million Btu. The spike happened while crude oil prices were tumbling last year.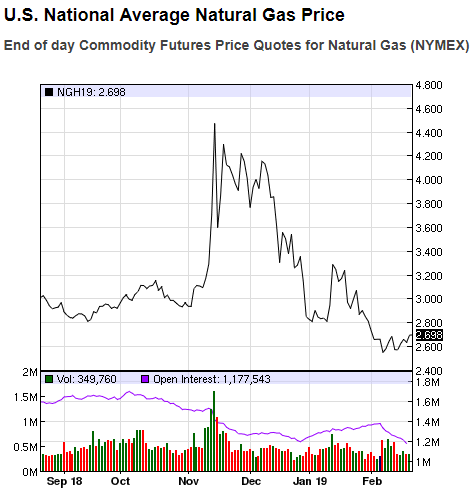 Northstar Investment Management
307 S. Front Street, Suite 107
Marquette, MI 49855
906-226-6056
This is not investment advice and may contain forward-looking statements. Readers should do their own due-diligence and fact-check. Asset prices will have changed from the time of writing. Forward-looking statements are not guarantees of future performance and involve certain risks and uncertainties, which are difficult to predict. Past performance is no guarantee of future results. Securities and Advisory Services offered through Commonwealth Financial Network, member FINRA/SIPC, a Registered Investment Adviser. 307 S. Front Street, Suite 107 Marquette, MI 49855. 906-226-6056
https://www.reuters.com/article/us-usa-economy-housing/u-s-existing-home-sales-fall-sharply-to-three-year-low-idUSKCN1QA20Z
https://www.reuters.com/article/us-usa-economy-durablegoods/weak-u-s-data-underscore-growing-headwinds-to-economy-idUSKCN1QA1S0
https://ycharts.com/indicators/30_year_mortgage_rate
https://www.census.gov/retail/marts/www/marts_current.pdf
https://www.philadelphiafed.org/-/media/research-and-data/regional-economy/business-outlook-survey/2019/bos0219.pdf
https://tradingeconomics.com/euro-area/manufacturing-pmi
https://tradingeconomics.com/japan/exports
https://tradingeconomics.com/china/gdp-growth-annual
https://www.nasdaq.com/markets/natural-gas.aspx?timeframe=6m
http://www.wsj.com/mdc/public/page/2_3022-govtbonds.html
https://www.bloomberg.com/markets/rates-bonds
https://www.abc.net.au/news/2019-01-16/australia-to-see-worst-fall-in-house-prices/10720406